The Gun That Really Won The West
01-24-2017, 05:16 PM
The Goose
Junior Member


Posts: 11
Location:
Joined: Jan 2017
Reputation: 1
The Gun That Really Won The West
A recent acquisition, a Belgian copy of a British Bulldog made by Lambin & Theate (L&T). Lambin-Theate operated from 1877 to 1886 when it became Lambin & Theate which operated from 1886 - 1894. So this revolver was made sometime between 1886 and 1894. It is chambered for the .442 also known as the .44 Webley. It is a pretty well made copy with a very good bore and tight lock up. It was left in the white and I doubt it was shot very much.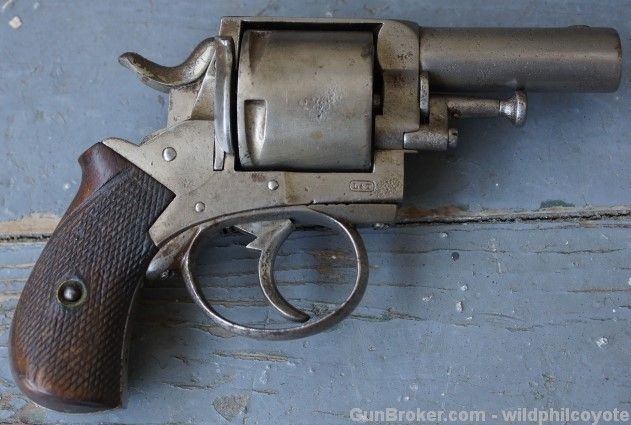 There is a book by George Layman entitled "The British Bulldog Revolver / The Forgotten Gun That Really Won The West". In the 19th century these little pocket guns were incredibly popular. They were cheap and could be carried in a pocket. Many more of these were owned than Colt Peacemakers, S&W Schofields etc. They were made all over the world, England, Belgium, Spain, the United States and on and on. They ranged in quality from excellent (Webley's) to down right dangerous to shoot. Many survived because they were not shot much. Like the modern day snubby they were carried a lot and shot little.
So the trick for me is how to shoot this old dog without spending as much on loading paraphernalia as I spent on the revolver. When I started looking at the cost of brass, a custom bullet mold and dies I was up over $500.00. Frankly this is not a gun that I plan on shooting much, but I have to shoot it at least once (or a few times). Brass for the .442 runs $2.00 a piece if you can find it. I know they typically make it from shortened .44 special brass with a thinned rim. The 11mm French Ordnance that I already load and shoot comes from the same parent and costs .77 each (and I already have a few hundred). The case length on the 11mm is 0.710" and the length for the .442 is 0.690", but I popped one into the Bulldog cylinder and it slipped right in. The bullet for the .442 is usually a heeled bullet with a case mouth diameter of about .430 and a body diameter of anywhere from .436 - .444 depending on the gun. As always I slugged the bore and got .427 (which is why I always slug the bore) with a cylinder throat of .429. So I took a Lee mold with a .430 200 gr bullet and cast up a few almost pure lead bullets. Used a .44 special size die, a .45 acp expander and .44 special seating die. Loaded the case with 12 grains of 3F black powder and seated the bullet as deep as a little compression would allow leaving 2 grease grooves exposed. Ran the loaded round up into the sizing die (sans decapping pin) and it chambered perfectly. I dipped the nose of each bullet into some melted SPG lube.
The target below shows the results. At 20 feet or so the group looks pretty good until one considers that I was aiming at the taped X below the target. Still a lot of fun though.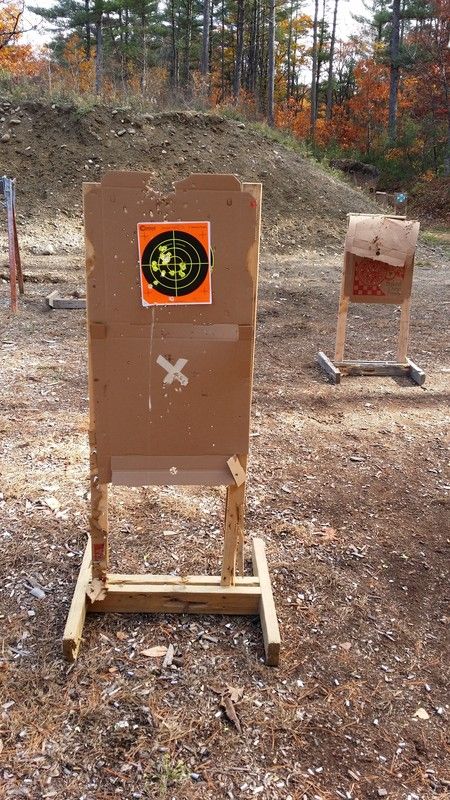 01-24-2017, 06:23 PM
Don McDowell
Administrator


Posts: 5,894
Location: Ft. Laramie Wy
Joined: May 2012
Reputation: 2
RE: The Gun That Really Won The West
Front sight a little short?
Thanks for telling us about that. It's fun to see these old guns run.
---
A wise man can always be found alone. A weak man can always be found in a crowd.
01-24-2017, 09:38 PM
(This post was last modified: 01-24-2017 09:39 PM by The Goose.)
The Goose
Junior Member


Posts: 11
Location:
Joined: Jan 2017
Reputation: 1
RE: The Gun That Really Won The West
Might be front sight. Might also be not bored straight, not uncommon with old Belgian revolvers.
User(s) browsing this thread: 1 Guest(s)